/

Authors: Anna Riggall*, Elnaz Kashefpakdel*, Ella Page*, Susy Ndaruhutse*, Sonia Guerriero**, and Rosie Leonard-Kane*.
---
Covid-19 caused considerable disruption to education around the world, with disadvantaged and marginalised learners particularly hard-hit. Early into the pandemic, the focus was on access - the goal was to ensure that students had access to education so that learning continued. With the new normal of schooling established, whether it is in-person, remote, fully digital, low-tech, or a mix of alternating approaches, the focus now is on learning recovery. Teachers will be at the heart of this recovery. They will be tasked to respond not only to students' deepened academic losses (and possibly some gains), but also to their socio-emotional wellbeing.
To assist governments, schools, and teachers in learning recovery, Education Development Trust and UNESCO are collaborating on a research initiative to explore what can be learned from Covid-19 and previous crises and what knowledge gaps remain. This is a long-term collaboration that began with a first phase that synthesized what we currently know and do not know; a second phase of field-based data collection to addresses identified knowledge gaps; a third phase to implement a teacher support intervention; and a final fourth phase to explore its impact and efficacy.
What have we learned since the beginning of the pandemic and what knowledge gaps remain?
The first phase of work resulted in three reports – a rapid evidence assessment (REA), a review of policy and literature, and a summary paper summarising key gaps in knowledge. Several key findings emerged:
There is consensus about the types of interventions that may support learning recovery

. These include tutoring schemes, catch-up programmes, accelerated education programmes, and a condensed curriculum. The evidence available now suggests these types of actions show promise, but more evidence is needed to help us understand how and under what conditions they work most effectively.

Measuring learning loss (or gain, which is far less common), is complex

. Projections and early data are cause for worry. Moving forward, it will be important to help education systems understand learning losses (or gains) at the individual student level and then to respond appropriately. Another important dimension to consider is whether 'instructional loss' would make a more valid measure. This refers to the instructional time and opportunities missed due to school closures - including when remote provisions were (or where not) put in place.

Evidence suggests the effectiveness of complementary initiatives and the recognition of alternative pathways to support learning recovery

. These include nonformal education initiatives delivered in the community, not as standalone programmes distinct from school, but as part of the formal offer of education

.

Fast-track, second-chance opportunities to complete formal education can enable disadvantaged children and youth to catch up with other students.

The use of digital technologies for remote and online learning shows great potential.

However, technology-based solutions and school closures exacerbated an already existing digital divide and led to learning loss across the world, especially in low-income countries. There is the need to explore how to effectively scale-up low-cost digital solutions, as well as low-tech solutions, such as radio, television, and mobile phones, to tackle uneven access to technology and connectivity.

The evidence also points to the need for mental health-focused initiatives

, as well as supporting teachers themselves back into classroom work. We do not currently know a great deal about how such initiatives might work, as evidence is limited.
The evidence assessment identified important data and knowledge gaps by investigating three overarching questions on how best to support teachers in learning recovery: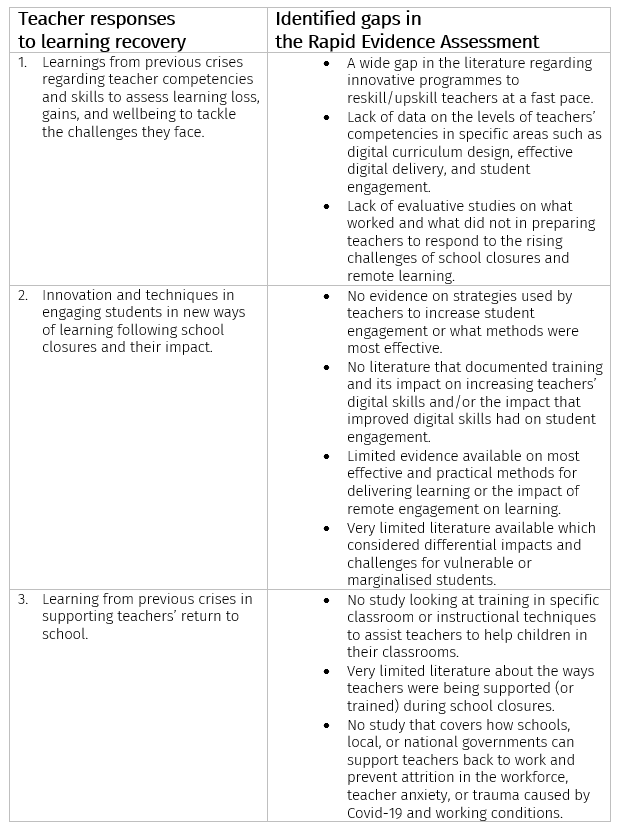 Despite shortcomings in the literature, some clear learnings are gained based on the views of stakeholders and from previous disruptions caused by crises and natural disasters. Something that is truly undeniable is the effective role teachers played in maintaining students' engagement with education and mitigating the risk of complete disengagement with education. Throughout the review, the challenges of switching to remote learning is acknowledged. Digital literacy and curriculum design, learning assessments, workload, student safety and duty of care, and responding to the psychosocial demands of students were among the main problems teachers had to cope with. Although evidence is limited, a few approaches were highlighted by the literature to respond to these needs, including tailored training programmes, peer-to-peer learning, crash courses on digital upskilling, and counselling.
In the second phase of this collaborative research initiative, Education Development Trust and UNESCO will explore these and other questions through field surveys to gather the perspectives of teachers themselves. The main focus will be on gaining a deeper understanding of:
Governments' plans for school reopening and learning catch-up in selected countries, and the expectations from schools and teachers

. The research will compare across various definitions of catchup programmes – from policy perspectives to scientific or academic definitions – to identify (mis)alignment.

Tools and mechanisms to ensure teachers are prepared for successful recovery

. The research will seek to further our understanding of what (if any) support teachers have already received, and what (if any) instruction, re-orientation, or upskilling teachers have received prior to going back to school, as well as assessing teachers' needs in terms of support and training to ensure impactful catch-up programme implementation and social and emotional wellbeing.

The roles of intermediaries

, such as teachers' associations, in-service, and pre-service education providers, in delivering support for teachers to better enable them to face the challenges of school reopening, learning catch-up and assessment, as well as promoting teachers' social and emotional wellbeing.
The findings of the second phase are expected in early 2022. 
---
The designations employed and the presentation of material throughout this article do not imply the expression of any opinion whatsoever on the part of UNESCO and the International Task Force on Teachers for Education 2030 concerning the legal status of any country, territory, city or area or of its authorities, or concerning the delimitation of its frontiers or boundaries. The ideas and opinions expressed in this publication are those of the authors; they are not necessarily those of UNESCO and do not commit the Organization.
Photo credit: Education Development Trust
---
*Education Development Trust - member of the Global Education Coalition, a multi-stakeholder and cross-sector cooperation established by UNESCO in March 2020 to support countries in learning continuity efforts.
**UNESCO